Our Alert & Focus Supplements
Unlock your mental potential with our premium Alert & Focus Supplements. Enhance cognitive clarity, sustain attention, and boost productivity. Elevate your performance to new heights. Discover the power of scientifically backed ingredients designed to optimize brain function. Elevate your mind, conquer your day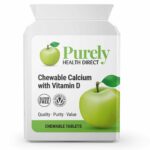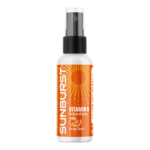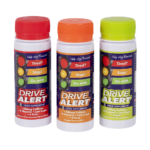 Frequently Asked Questions
What Are Good Vitamins for Alertness?
Why Use Alert & Focus Supplements?
How Do They Work?
What Are Good Vitamins for Alertness?
Several vitamins and minerals play a role in supporting alertness and cognitive function. Here are some key nutrients known for their potential benefits:
Vitamin B12: This vitamin is essential for neurological function and the production of red blood cells. It helps maintain proper brain function and can contribute to improved alertness.
Vitamin B6: B6 is involved in the synthesis of neurotransmitters like serotonin and dopamine, which play a role in mood regulation and cognitive function. Sufficient levels of B6 can support mental alertness.
Vitamin D: Adequate levels of vitamin D are important for overall brain health. Vitamin D receptors are found in various areas of the brain involved in cognitive function and mood regulation.
Iron: Iron is necessary for the transport of oxygen in the blood and plays a crucial role in brain function. Iron deficiency can lead to fatigue and decreased cognitive performance, while maintaining appropriate iron levels can support alertness.
Magnesium: Magnesium is involved in over 300 enzymatic reactions in the body, including those related to brain function. It may help regulate neurotransmitter activity and promote relaxation, which can indirectly support alertness.
Zinc: Zinc is involved in numerous physiological processes, including cognitive function. It plays a role in neurotransmitter regulation and can contribute to improved mental alertness.
Omega-3 fatty acids: These essential fats, particularly docosahexaenoic acid (DHA), are vital for brain health and function. They support neuronal communication and are linked to improved cognitive performance.
Caffeine: While not a vitamin or mineral, caffeine is a stimulant that can temporarily enhance alertness and focus. It's commonly found in beverages like coffee and tea.
Why Use Alert & Focus Supplements?
How Do They Work?
Introducing Drive Alert™, an Alertness drink designed to support individuals with busy lifestyles. With its carefully selected ingredients, Drive Alert™ provides an invigorating burst of energy to power you through your day. This energy drink is formulated to contribute to normal energy metabolism, enhance psychological function, and reduce tiredness and fatigue. What sets Drive Alert™ apart is its zero sugar content and low calorie count of only 6kcal per 60ml shot. The convenient format makes it easy to use, allowing you to quickly enjoy the extra boost you need for any occasion that demands heightened alertness and focus.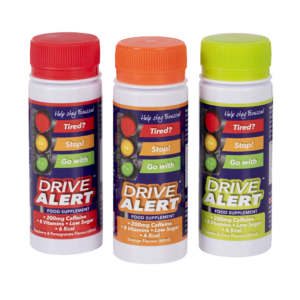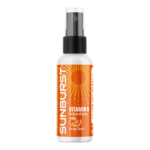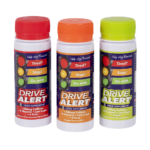 Vegan focus and alert supplements are specifically formulated to support mental clarity, concentration, and cognitive function, using plant-based ingredients. These supplements are designed to provide a natural and sustainable option for individuals following a vegan or vegetarian lifestyle or those who prefer plant-based alternatives.
Memory supplements are dietary supplements designed to support and enhance memory function. They often contain a combination of nutrients, herbs, and other compounds that are believed to benefit memory and cognitive performance.